Article information
Abstract
Full Text
Bibliography
Download PDF
Statistics
Tables (4)
Table 2. Overall scores on the decimal scale obtained from the students (n=119), with their absolute and relative frequencies.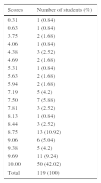 Table 3. Scores for each of the anatomical structures to be identified in the various ultrasound slices.
Table 4. Student scores (n=119) according to the basic ultrasound planes.

Abstract
Objective
To analyze the ability of medical students to incorporate the practical teaching of basic echocardiography planes using a peer mentoring design.
Methodology
Thirty-six medical students previously trained in obtaining echocardiography planes (mentors) taught the other 5th-year students (n=126). The teaching methodology included three stages: theory (online course), basic training (three 15h sessions of practical experience in ultrasound and at least 20 echocardiographic studies per mentor) and objective structured clinical assessment (OSCA), which scored the appropriateness of the basic ultrasound planes and the correct identification of 16 cardiac structures.
Results
The students' weighted mean score in the OSCA was 8.66±1.98 points (out of 10). Only 10 students (8.4%) scored less than 5, and 15 (12.6%) scored less than 7. Fifty students (42%) scored 10 points. The most easily identified structure was the left ventricle in the short-axis parasternal plane, with 89.9% of correct answers. The most poorly identified structure was the mitral valve in the subxiphoid plane, with 69.7% of correct answers.
Conclusions
Peer mentoring-based teaching achieves an appropriate level of training in obtaining basic echocardiography planes. The training period is relatively short. The peer mentoring system can facilitate the implementation of teaching on basic aspects of ultrasound to a large number of undergraduate students.
Keywords:
Echocardiography
Medical education
Students as mentors
Peer mentoring
Resumen
Objetivo
Analizar la capacidad de los alumnos de Medicina para integrarse en la enseñanza práctica de los planos básicos en ecocardioscopia mediante un diseño de mentoría paritaria.
Metodología
Treinta y seis alumnos de Medicina previamente adiestrados en la obtención de planos en ecocardioscopia (mentores) enseñaron al resto de alumnos de 5.o curso (n=126). La metodología docente incluyó 3 etapas: teoría (curso online), entrenamiento básico (3 sesiones con 15h de experiencia práctica en ultrasonidos y un mínimo de 20 estudios ecocardiográficos por mentor) y evaluación clínica objetiva estructurada (ECOE) en la que se puntuaba la adecuación de los planos ecográficos básicos y la correcta identificación de 16 estructuras cardiacas.
Resultados
La puntuación media ponderada obtenida por los alumnos en la ECOE fue de 8,66±1,98 puntos (sobre un máximo de 10). Solo 10 alumnos (8,4%) obtuvieron una puntuación inferior a 5 y 15 (12,6%) inferior a 7. Cincuenta alumnos (42%) obtuvieron 10 puntos. La estructura más fácilmente identificada fue el ventrículo izquierdo en el plano paraesternal eje corto, con un 89,9% de respuestas correctas. La estructura peor identificada fue la válvula mitral en el plano subxifoideo, con un 69,7% de respuestas correctas.
Conclusiones
La enseñanza basada en la mentoría paritaria consigue un nivel de entrenamiento adecuado en la obtención de planos básicos en la ecocardioscopia. El periodo de formación es relativamente corto. El sistema de mentoría paritaria puede facilitar la implantación de la enseñanza sobre aspectos básicos en ultrasonidos a un elevado número de alumnos de pregrado.
Palabras clave:
Ecocardioscopia
Educación médica
Estudiantes como mentores
Mentoría paritaria
Article
These are the options to access the full texts of the publication Revista Clínica Española (English Edition)